Xilex for Stone machines efficiently complete the drying and resining process with a single treatment, getting the slabs ready to polish in just one hour.
Onyx has gained prominence in the market during the last years, becoming an important material for both architecture and interior design projects. It is a natural stone of great beauty, very striking, and which offers numerous possibilities of shape and color.In addition to being used for cladding, one of its most prominent applications is the backlit decoration, a common resource in high-end interior architecture projects such as luxury stores and hotels.
Customers of this exclusive stone demand high quality standards, so the pieces must be aesthetically perfect. It is a material of high cost and of great fragility due to its composition, so Xilex machines are the solution to process onyx slabs to get an outstanding quality and excellent aesthetic product.
The quality of the final finish relies on the quality of the resining process
Onyx is a natural stone that presents remarkable treatment difficulties due to the nature of its composition. To carry out the effective treatment that this material requires, Xilex for Stone has developed a solution that combines the use of Ares and Kronos precision ovens together with the application of resins for 48h-72h.
Nowadays conventional lines do not solve the problem of controlling the penetration of the resin, therefore, depending on external conditions (such as temperature and humidity of the environment), the operators need to repeat more than once the resining treatment and sometimes they even do not achieve the desired finish after the polishing process.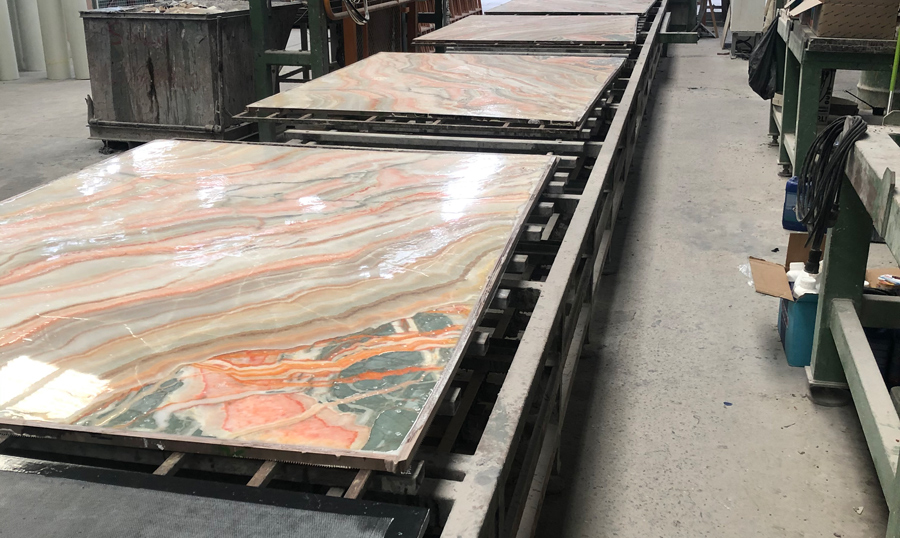 On the other hand, the onyx treatment with the Ares and Kronos ovens, which are easily adapted to a conventional production line, is carried out at low temperatures with the purpose of not affecting the morphology of this sensitive material. These ovens, drying and resining respectively, perform a precision treatment, adapting their functionality to the characteristics of the treated stone (onyx, marble, granite …).
In this way, Xilex solution achieves ideal penetration and adhesion of the resin at the first time, and in just one hour. Thanks to this effective resining the polishing process can be carried out without breakages problems to obtain the desired finish of the onyx slabs to respond to the high aesthetic and quality demands of the market.